We are surrounded by technology.  Whether you think it is great or a distraction it really has crept into every part of our lives.  Today we communicate with each other using smartphone apps, select movie from our couch after viewing a sprawling menu of movie theatre posters, order our gifts via websites without leaving our home, track our heart rate and calories burned using a bracelet, video chat with students around the world, and use web services like IF THIS THEN THAT (IFTTT). 
But how does it work?  Get started with a Free Coding Course.

Learn to code at home and begin learning how it all works.
Time and time again we hear stories about jobs not disappearing but being replaced by technology and automation.  We know technology is advancing but it is actually advancing at a pace more rapid than ever and for some it is stressful.  It is stressful to learn and stressful to keep up. 
In our schools or our homeschools, we expect the teachers to also keep pace with this advancement only to learn school budgets get cut and they cannot afford new software, computers, or cool coding robots like the Sphero BB-8.  Even worse, the teacher lacks the experience to teach this new wave of technology and simply does not have the time to teach themselves. 
"So where does that put our children?"
"Where does that put us?"
The STEM and STEAM Approach
I am very inspired to see school districts weave innovative STEM and STEAM programs into their curriculum. 
But it isn't happening everywhere and I have witnessed first hand the uneven delivery of it in a classroom.  Teachers work very hard but are faced by many challenges to do this consistently well in the classroom.
Teachers, check out "My 5 Tips For Teaching Coding"
In this uneven approach in many school districts, our children can easily fall behind but there is always next year.  Next year arrives and it is the same things all over.  A wicked cycle indeed and then your child misses the window to explore and learn which might have lead to an interest and ultimately to a passion.
STEM (Science, Technology, Engineering, Math) or STEAM (Science, Technology, Engineering, ARTS, Math) is part of the solution but only if you have a vibrant program with a class of students wanting to learn.

WHY NOT:
Bring it home.
Learn it at home.
Teach it at home.
Own it.
Learning should not stop when they leave the school.
Make it available at home so when they feel inspired to do more or show you what they learned, you can do it together right at home.
Q: Is your child one of the few that wants more but simply isn't getting that experience at school?
Q: Are you an adult that is part of the workforce being displaced and need to focus on a new career path?  Maybe after a few years working you are realizing you want to pursue other areas but are unsure where to begin.
Q: Are you homeschooling but just are not sure where to begin?  I have talked with homeschooling parents who are motivated and doing wonderful things with their children only to feel a bit lost when it comes to teaching coding at home.  They search the web looking for video tutorials and programming tools only to wind up cryptic or incomplete instructions ultimately becoming confused or frustrated.
A Student's Story
I can recall a student who came to me and he wanted to study psychology.  My brother in law is a psychiatrist and my oldest daughter studied psychology so I understand it is a great profession. This student visited me one day and took a class with me that covered basic technology and coding concepts.
When the class was done, he said to me,
"I never thought it would be like this and I really like it." 
Needless to say, they went on to graduate and now they he is a software developer with a great career.  
All it took was a small step.
For over 20 years I have been teaching and consulting.  Much of that time was spent with children in coding camps who are eager to learn but don't get the opportunity during the school year to learn about coding and technology.  Or if they did, it was quick and very rushed because the teacher was caught up in other classroom issues.
Other parts of that time has been spent with adults looking to find a new career path or be able to teach their own kids.
I want to help.
Did you ever have to do something you didn't want to do? Then when you did, you could not get over the fact it was better than you thought and it was like nothing you expected. I am sure you have. Remember when I said technology was changing rapidly?  We all joke about how it changes. It does. Since 2007 with advent of smartphones and some particular advances in computing hardware we have been on a rocket ride of change and there it won't slow down. If you ever thought "it can wait" or "I will get back to this", you want to now do it. Take that first step and explore my coding course to gauge if this interests you, challenges you, or is simply fun to do.
I would take that first step sooner….no….now and find out.
Why would you wait? 
What can possibly be more important than an opportunity to learn and become a better version of yourself.  
You Are Ready
Click Button & Start Coding
I will be happy to be your guide.
Happy coding,

Start Coding Today In 5 Minutes!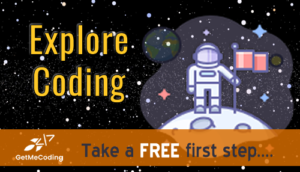 Take 5 minutes and try a FREE coding activity!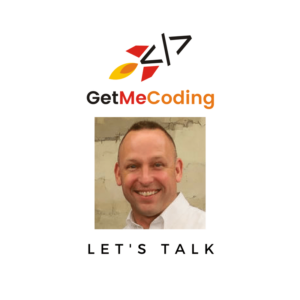 If you are a teacher or someone looking to help others learn to code, let me help you.