Did you ever just think "I wish there was an app for that"?  or  when at work "I wish this website updated my software"?  Many apps today are software applications and you need to understand coding to build them.  Getting websites to connect to other websites or software programs typically requires understanding services and software programming. 
That is a task that can challenge even the most experienced software developer.    Having the ability to create something others can use that will help them solve a problem, play a game, or inform them can make you feel like a super hero.  
Like any skill it takes practice to develop.  Often times, someone wants to learn to code only to get frustrated by the instructions or time it takes.   
I Want To Help You
The main reason www.getmecoding.com exists is to help you start to see you can learn or teach programming and produce something that is fun.
Check out the CODING tutorial links at the bottom of this post.
The great thing about today's technology world is that it is putting power into our hands that was not possible 15 or 20 years ago without very deep skills.  
One of my favorite tools that you can start using today without a lot of coding experience is a website called IF THIS THEN THAT (www.ifttt.com).
As they say on their website, you can pronounce it like GIFT but without the 'G'.
IFTTT allows you to bring services together and roll them into what they call APPLETS.
APPLETS are actions that you want your internet services to do that they really can't do on their own.
IF THIS THEN THAT follows a simple single logical programming rule, IF THIS happens, THEN THAT will happen.  
For example:
If it is raining then I will use an umbrella.  
Or, if my gas gauge reads low fuel then get more gas.  
Coding is nothing more than understanding what you need to have done and then writing the code to do it.  
What if you wanted to get an email or text letting you know what tomorrow's weather will be like?  Yeah, there are apps out there today that do for us but now you can create it using the tools you use and have it tell you exactly what you want it to say.  So with IF THIS THEN THAT you can create a 'rule' or as in their website, a RECIPE, that will automate an activity.  On their website they have 3 parts:  a service, a recipe, and an app.  
What is an internet service?
An internet service is an existing website (or software program) that provides some kind of helpful activity you would not build on your own such as
www.gmail.com,
www.twitter.com,
www.dropbox.com,
www.instragram.com
Or it can be a personal assistant like Amazon Alexa, Microsoft Cortana, or Google Assistant:

These are typically websites that you have a user account.  IFTT has a large list to pick from so if you don't use the ones I just listed there are so many more.  

This is where you get to take a step in thinking like a coder.  Your recipe is essentially what you want to do following the IF THIS happens THEN do this format.  
An example would be IF I post a photo to Instagram.com THEN place a copy in my Dropbox.com folder.   
So you start by identifying what is happening and then what you want to do.  The combinations are almost limitless!
An app is short for software application.  In IFTTT you will create APPLETS and it is the result of a successful recipe.  Once you build it on the IFTTT.com website you turn it on or off to do the task you setup.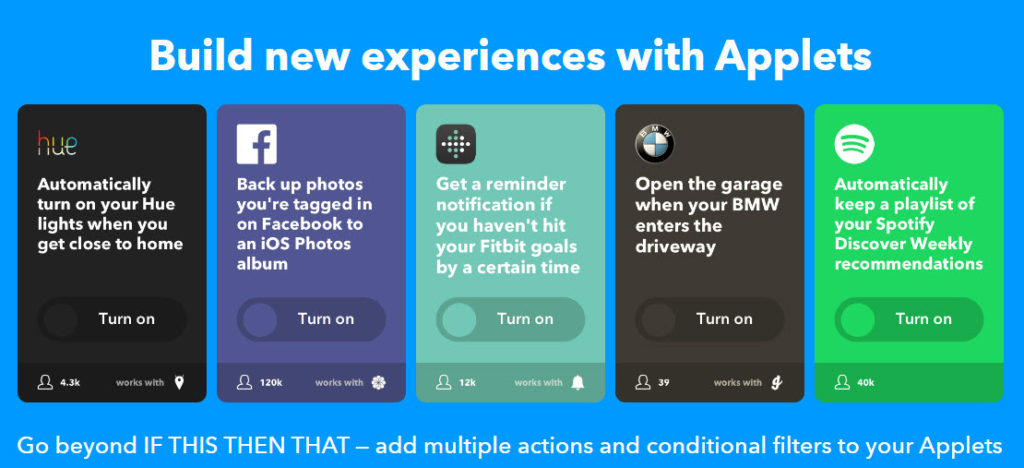 Get Started With These Must Have Applets
Social Media – Instagram
Instagram can be great for sharing your photos but you may also want to share them to your other social network accounts.  This one posts it to Facebook, Twitter and Dropbox.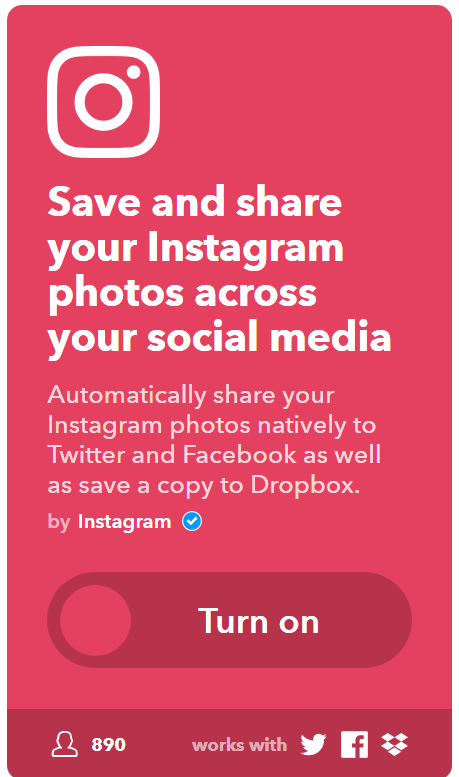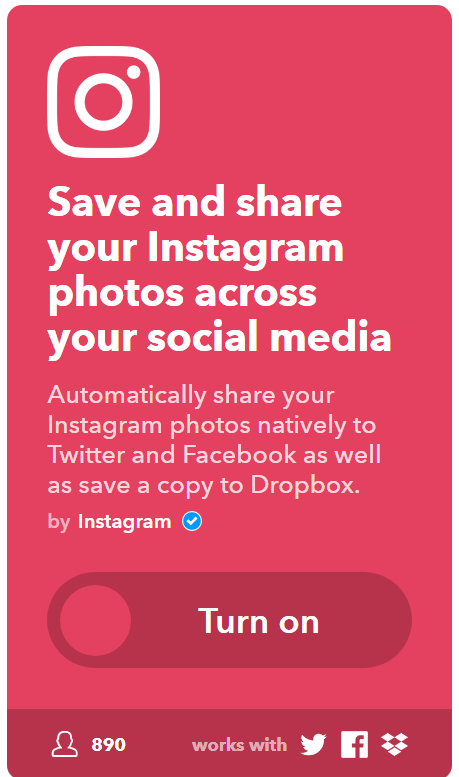 Shopping – Best Buy
During the holidays, I wanted to purchase a new television.  I knew there was going to be a number of sales.  First, I began to look for a television that I liked and was in our budget.  I found the item's inventory information and used that to send me an alert when that went on sale!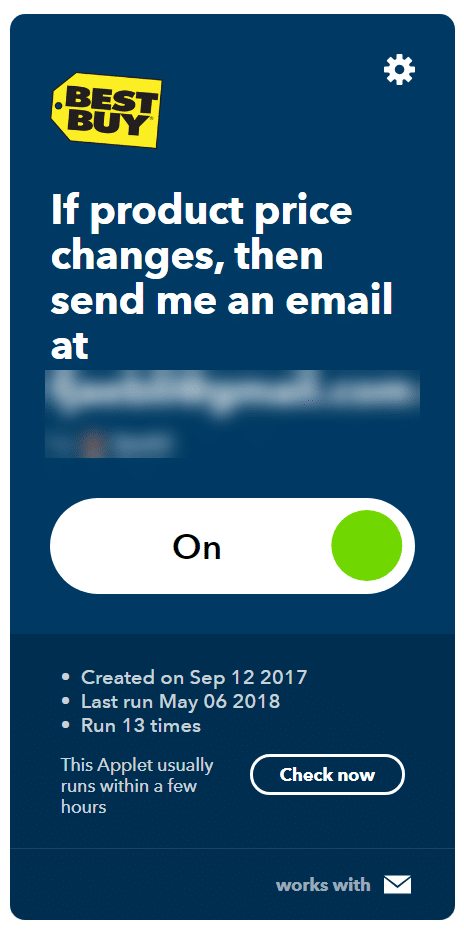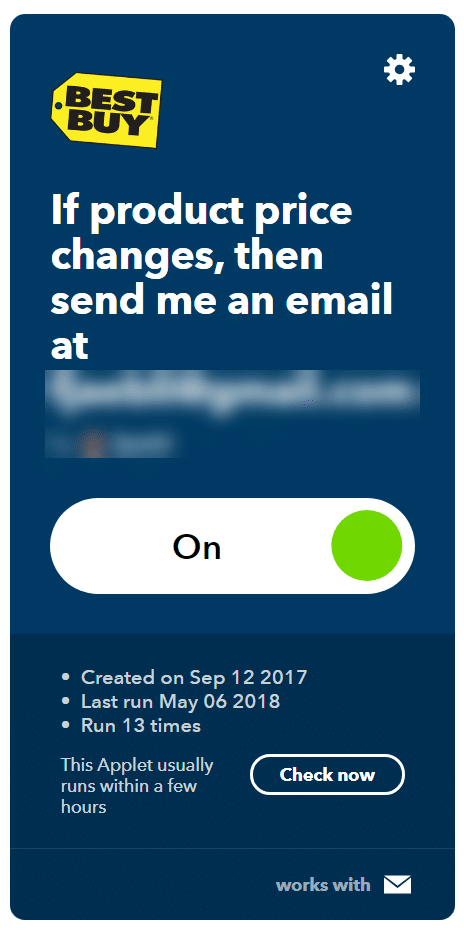 Star Wars Fun – Execute Order 66
I am a huge Star Wars fan and I discovered this applet.  It has over 48k users!  When you say EXECUTE ORDER 66 it will play Darth Vader's theme.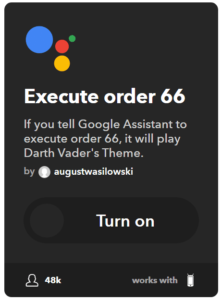 And there are so MANY MANY MORE!!  
Is it really an app for your smartphone or mobile device?  
Yes and no.  
If your IFTTT app requires some kind of interaction like controlling an internet connected household appliance, you can download the IFTTT smartphone app and you can then place an icon on your mobile device where you then just click it.  
For example, a student of mine built an app that created a simple button called FAMILY and when clicked sent out an automatic text to her family letting them know she got to the campus safely and was in class.
The possibilities are limited only by your imagination.  So go out to IFTTT.com setup and account and try it out.  You can build your first app in minutes.  
You may even want to check out www.zapier.com and see how you can create even more automated workflows to complete more complex tasks.  More on that one later.
I would love to know what you discovered and built.  
Give this a try and have fun with it.
When you do, please let me know what cool app ideas you created!  You can email me here.
Please share this BLOG posting with others who may be interested and be sure to signup for our updates
.
Start Coding Today In 5 Minutes!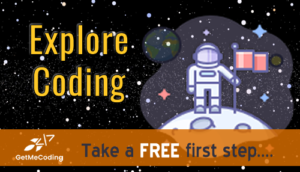 Take 5 minutes and try a FREE coding activity!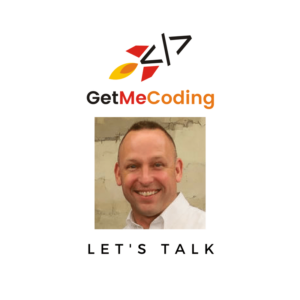 If you are a teacher or someone looking to help others learn to code, let me help you.